Floweracademy.si in Slovenia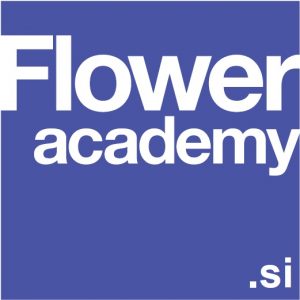 Ph. D. Sabina Šegula was born on 10. 12. 1968 in Kranj. In 2012 she finished her PhD studies at the
Biotechnical College at the University of Ljubljana. In her post-bachelor studies, she focused on the economic aspect of decorative plant productions in Slovenia. Meanwhile she also finished the course of pedagogy and andragogy studies and accomplished the international certificate education of Wellant college in the Netherlands from which she attained the title of First Degree European Florist. She also passed the international exam Masterd Doutch Floral Design at Boerma Instituut Aalsmeer, The Netherlands and specialized at Wedding floristics learning from the world-famous florist Wally Klett in Germany. She take part in an international florist project FlorCert at which she is also the coordinator for Slovenia and she is FlorCert Expert. Together with other professional florists from 5 different countries they are currently writing an international course book for floristics. She has been a teacher of horticulture for 18 years now. She wrote a course book for vocational college Pridelava okrasnih zelnatih rastlin (The Cultivation of Decorative Herbaceus Plants) and books Osnove oblikovanja v cvetličarstvu (The Basics of Floristic Design) and Pogoste sobne rastline v Sloveniji (Common Indoor Plants in Slovenia). She is taking part in many scientific international conferences aside from being a high school teacher, a college professor, researcher and executive of BC Naklo research team. She is also the executive of VIVUS conference review committee at BC Naklo. She is writing professional and popular articles for various Slovenian magazines and is the Editor-and- Chief at Slovenian floristics magazine AKADEMIJA
CVETJA. As a mentor, she takes part in various activities, competitions, exhibitions with her students. Since 2011 she has been involved in the Easter and Christmas decorations of the Basilica of Saint Peter in the Vatican. She also cooperate with several companies working in the field of floristics.